We have gathered some of the key insights delivered at Aarhus Investor Summit | Science Edition on May 18th, where more than 100 participants listened to key notes and pitches by spinouts from Aarhus University who work within pharma & diagnostics as well as bio-food tech, medtech & sustainability.
If there was a recurring theme throughout the keynotes and presentations at this year's Science Edition of the summit it was how to invest in knowledge intensive and early-stage spinouts. And there is plenty of experience to draw on.
Lone Ryg Olsen from Aarhus University started off the summit by establishing the fact that since 2018 spinouts from Aarhus University have raised more than DKK 1.4 billion in investments. At the Aarhus Investor Summit Science Edition, ten spinout cases from Aarhus University were given a strong platform to pitch their research to a wide audience of investors.
'This can hopefully provide a strong basis for future collaborations and investments and to even more knowledge-intensive companies being established in Aarhus,' Mai Louise Agerskov, CEO of INCUBA, added.
And with that, the scene was set.
Investing in spinouts is a different discipline
In the first keynote of the day, Mikkel Kongsfelt, co-founder and CEO of RadiSurf, pointed out that it is an entirely different discipline to invest in heavy science-based spinouts compared to investing in more regular startups. Some may refer to these kind of spin outs as deep tech, which is especially interesting to focus on because they have the potential to change the world with their innovations in the fields of nuclear energy, biotech, and medicine. Mikkel's advice to the audience were:
• Embrace the science if investing in deep tech
• Engage early with scientist – be curious and learn about their field
• Look for coachable scientific founders with an open mind for business
And to the question on whether a scientist should start a company, Mikkel simply stated: "Business is hard, but it's not quantum physics" to the amusement of the audience.
Building biotech companies on early science
Next, we met Simon Glerup, who has built no less than three bio-tech companies and raised more than 700 million DKK in investments. So, it was clear to say that this keynote speaker had key considerations for investing in an early-stage biotech project, but he also provided a founder's perspective on how to drive biotech investor interest:
• Inspiration and leadership are key – make investors follow your vision
• Do not compromise on scientific excellence – go for the heart of the challenge
• Team excellence is essential to your business – explain why this is your dream team
• Ensure a crystal-clear value proposition
• Must haves are integrity, trust, energy, and excitement
• Demonstrate resilience – it is going to get tough
• Listen carefully to investor feedback – if relevant act on it – second meeting: show that you heard them
According to Simon who has three growing and successful spinouts on the CV, becoming an entrepreneur is quite the adventure.
Success is stumbling from failure to failure with no loss of enthusiasm
… is a quote by Winston Churchill that the third and last keynote speaker of the day, Claus Hansen, presented on one of his slides. The life science/MedTech serial entrepreneur & investor took the audience through the potential of investing in life science in Denmark – an area in which he has a proven track record himself.
According to Claus, life science in Denmark is a strong national and international industrial vertical with world-class research led by major lighthouses. His take aways on why to invest in spinouts were:
• There is a unique purpose and potential great impact
• Creating commercial value based on life science spinouts adds value for society
• Working with super engaged and brilliant people is stimulating
• Being able to add value and build business around science is meaningful
• The return of investments is competitive versus the risk
Unique collaboration between research and business
Aarhus Investor Summit | Science Edition is an event that aims to enable spinouts to meet and attract local, national, and international capital. In a unique collaboration with Aarhus University's Technology Transfer Office (TTO), this year's summit handed the stage to important research from Aarhus University. The ten pitch cases were well received by the audience, but also by the summit's partners.
'At Vækstfonden, we cannot succeed alone in our task of selecting and developing the companies that Denmark must not miss out on. We are dependent on partnerships with Business Angels, Accelerators and Venture Funds. Aarhus Investor Summit works purposefully to connect startups with precisely these investors, and therefore it makes sense for us to be a partner,' says Business Manager, Søren Grønbæk Nielsen.
'As partners with the Aarhus Investor Summit, we work together to ensure that as many startups as possible from the ecosystem have access to growth capital. DanBAN is a natural partner with Aarhus Investor Summit as we see it as one of the most important signature events in East Jutland, both with strong partners behind the events and a strong organizer in INCUBA.
At DanBAN, we collaborate with players in the growth segment to match capital-seeking startups with our network of Business Angels. For that purpose, Aarhus Investor Summit is great for us to work with as the event focuses precisely on the match between those who seek investment and investors with capital ready to invest,' says Michael Hansen, CEO of Danish Business Angels.
Tech Edition is up next – save the date
Thank you for participating in Aarhus Investor Summit | Science Edition 2022! We hope to see you at the Tech Edition October 6th at Aarhus City Hall. In the meantime, you can watch a recap of the Science Edition right here, where we also hear from pitch cases and partners: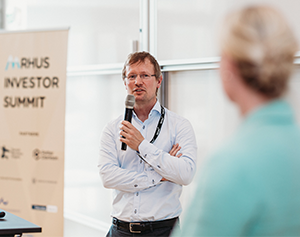 Date:
1. juni 2022
Fakta om Aarhus Investor Summit
Aarhus Investor Summit 2022 took place May 18th 14.30-19.00 at INCUBA Navitas.
Aarhus Investor Summit is organised by INCUBA.
The partner circle consists of Aarhus University, Aarhus Municipality, Danske Bank, Danish Business Angels, Vækstfonden, Potter Clarkson and DLA Piper
Website: www.aarhusinvestorsummit.dk